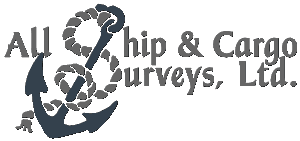 About Us
Our Firm
All Ship & Cargo Surveys, Ltd. (ASCS) has been in the marine survey business in Honolulu for more than 30 years. The experience of our surveyors range from condition surveys of recreational boats to marine related cargo surveys to surveys of major fire and collision damages to large sea going vessels, and major machinery casualties. The inspection and certification of cranes by ASCS commenced in 1988.
Our firm has conducted over 4000 crane inspections. Over the years, we have also been involved in conducting ship condition/damage surveys for Lloyd's Register of Shipping, The Salvage Association, Bureau Veritas and various world-wide steamship companies.
Based on past crane certification, marine surveying and consulting experiences, we believe that we have a definite service to offer where professionalism and thoroughness are the criteria. Our survey reports provide a complete third-party evaluation of the equipment at the time of inspection.
Management & Associates
John P. Mihlbauer, Jr. -- Owner
John Jr. is the owner and principal surveyor for ASCS.
John P. Mihlbauer, Sr. -- Associate
John Sr. is the previous owner and surveyor of All Ship & Cargo Surveys.
Dudley Fullard-Leo -- Associate
Dudley has been working with All Ship & Cargo Surveys since the company began conducting crane surveys in the late 1980s.
Edward Thomas Mihlbauer -- Associate
Edward or Etoo has been assisting with the crane surveys for nearly five years.
Elizabeth A. Mihlbauer -- Co-Owner/Office Manager
Liz maintains all administrative operations for the business.
Certifications & Affiliations
Members of the firm have been certified or registered to the following appointments:
Licensed Professional Engineer
OSHA 29 CFR 1919.50 accredited Crane Certificator and Surveyor since 1988.
Floating Cranes and Derricks
Shore Based Equipment
Loose Gear and Wire Rope Testing
American Society of Mechanical Engineers (ASME) member
ASME B.30.24 Container Cranes Subcommittee member
ASME B30.8 Foating Cranes and Floating Derricks Subcommittee member
Crane Institute of America - Mobile Crane Inspector
National Association of Marine Surveyors
Society of Naval Architects and Marine Engineers
American Society of Naval Engineers
Lloyd's Register of Shipping
The Salvage Assocation
Germanischer Lloyd
Bureau Veritas
Bahamas Nautical Inspector
Bureau of Maritime Affairs, The Republic of Liberia
International Cargo Gear Bureau, Inc.